Thermaskirt Hydronic Skirting Board
ThermaSkirt H₂O is an energy efficient infrared radiant heating system, cleverly designed to look just like a traditional skirting board. By combining 2 elements in one, it will save you installed cost, valuable wall and floor space, improve the aesthetics of your room and reduce your energy bills. Available in various styles and colours, ThermaSkirt is the ideal heating solution for both new build and renovation projects.
| | |
| --- | --- |
| Product | Thermaskirt (Profile BM2), Thermaskirt (Profile BM2TS), Thermaskirt (Profile BM2OV), Thermaskirt (Profile BM3), Thermaskirt (Profile BM3TS), Thermaskirt (Profile BM3OV) |
How does it work ?
ThermaSkirt is manufactured using a highly conductive alluminium alloy that radiates heat up to 5 times more effectively than steel.
Radiant heat, emitted low down and all-around creates that wonderful warm environment often associated with underfloor heating, but being above ground, ThermaSkirt responds in minutes and works with any floor construction or covering. Connecting onto any typical central heating system, boiler or heat pump ThermaSkirt carries all necessary testing and safety certificates.
Highly efficient infrared radiant heating panel
Connects onto existing 2 pipe radiator system
Oval tubes create a super-slim profile
Responds quickly to heat demand
Works with conventional boilers & renewables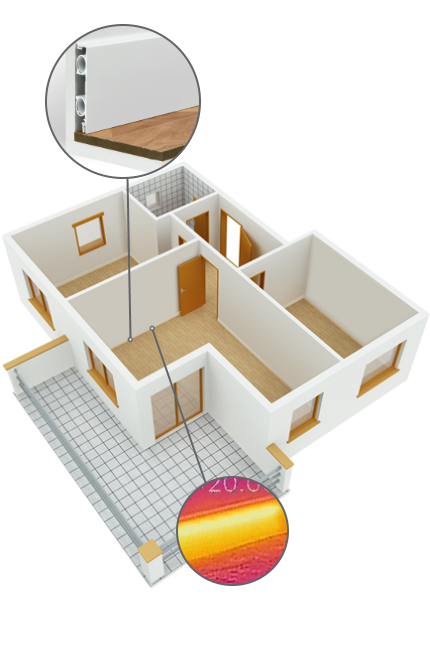 How is it installed?
Designed with the DIY enthusiast in mind, ThermaSkirt is installed as an alternative skirting board. Available in lengths up to 6 metres, most walls can be installed in one, simple section. Unique and patented push fit connectors make for a quick and and easy installation.
DIY or supply and fit options available
Simple push fit connections
No soldering, sealants or glues
Connects onto a typical 15mm pipe circuit
Suitable for any floor construction or finish
General Installation Video
Preparation & Pipe Work
Feed Sets – Manual TRV & Remote Control
Internal 90° Corners
External 90 Corners – Short and Long Walls
End of Run – Return Manifold
Doorways, Openings & Obstructions
Heated Threshold – Patio & Bi Fold
Top Capping Profiles
Thermaskirt-e Installation Guide
Save Space
ThermaSkirt not only creates more usable, versatile living space by freeing your wall of radiators, it also improves the aesthetics of your home. With no radiators to obstruct your walls, redecorating becomes simpler and as ThermaSkirt creates no dust or discolouration, your décor lasts longer as well.
Free's up valuable wall and floor space
Simple decorating with no draining down
Cable mangement cover
Reduces airborne dust
Material and Specifications
MATERIALS
Skirting:
Aluminium polymer alloy
Connectors:
Reinforced glass nylon
Paint finish:
Epoxy powder coat
APPROVALS AND WARRANTY
CE Marked to BS EN 442-1
Tested by BSRIA, TUV and KTH
10 year warranty:
Aluminium friendly inhibitor required
SPECIFICATIONS
Operating pressure:
Typically 2-3 bar
Max testing pressure:
Typically 10 bar
Max operating length:
Typically 20-25m per 15/16mm feed
Flow temp Vs Watts per M

Profile

Flow Rate

72ºC (△50ºC)

45ºC

50ºC

55ºC

65ºC

75ºC

Typical Heat Pump / Renewable Energy Source

Typical Boiler; Gas, oil LPG or Pellet

DECO BM2

56-80 gm/s

134

59

66

80

105

143

URBAN LT

56-80 gm/s

148.5

59

73

88

124

159

CLASSIC TS

56-80 gm/s

148.5

59

73

88

124

159

DECO BM3

56-80 gm/s

197

87

98

119

166

215
PERFORMANCE VS FLOW RATE
Output in Watts/m (or BTU/ft) is only slightly affected over a wide range of flow rates. Our typical test data is based on 56g/sec in accordance with the BSRIA test BS EN 442-1. Output data is given here for flow rates between 10g/sec & 112g/sec which covers the lower and upper ranges of suitable performance for central heating systems.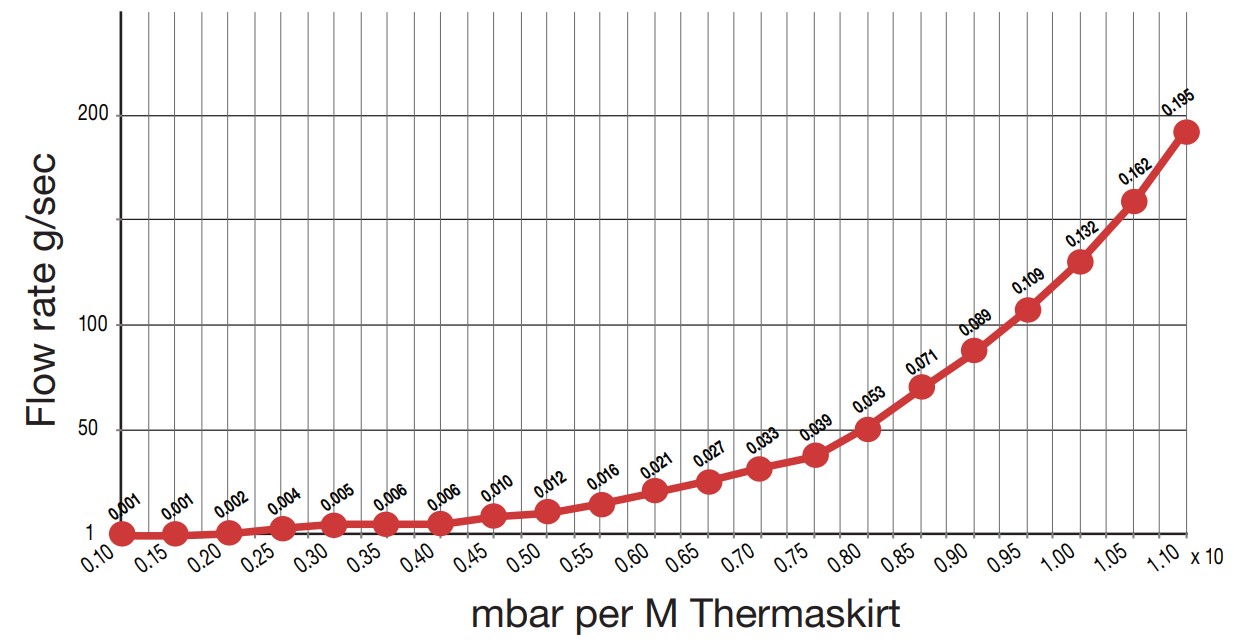 Cost Saving
Combing the skirting and radiators in one, creates a very cost effective, budget conscious heating solution whether it be new build or retrofit. Provided in a pre-finished, tough epoxy powder paint finish with a removable 'top gasket' (instead of requiring caulking), it is a rapid, dry installation that requires no curing time before floor coverings are laid and utilises a single trade to fit.
Combines the skirting boards and heating in one
Pre finished with epoxy powder coat paint
A dry fit usually only requiring one tradesman
Can be provided pre-cut to exact room size
Completely accessible & adaptable post install
Profile BM2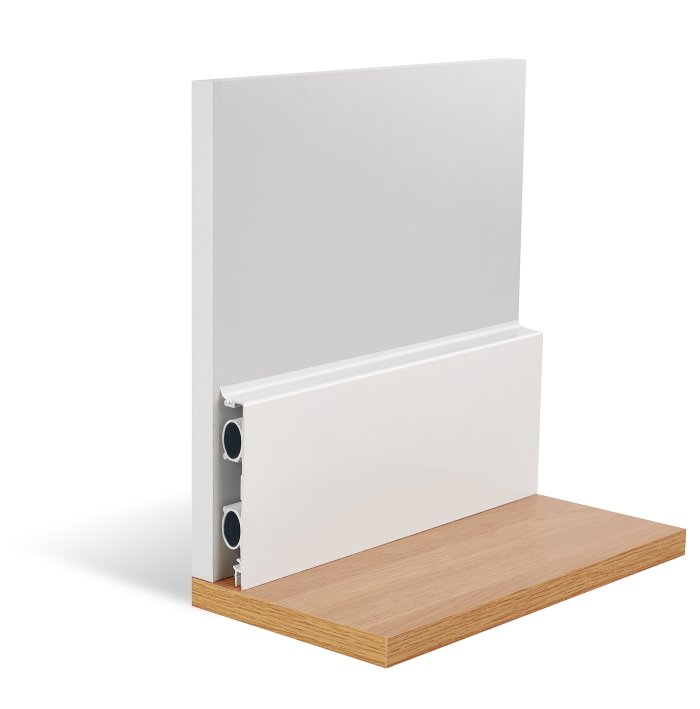 115mm / 4.5" High Profile
Simple, Stylish Square Edge
Ideal for Modern Apartments
Profile BM2TS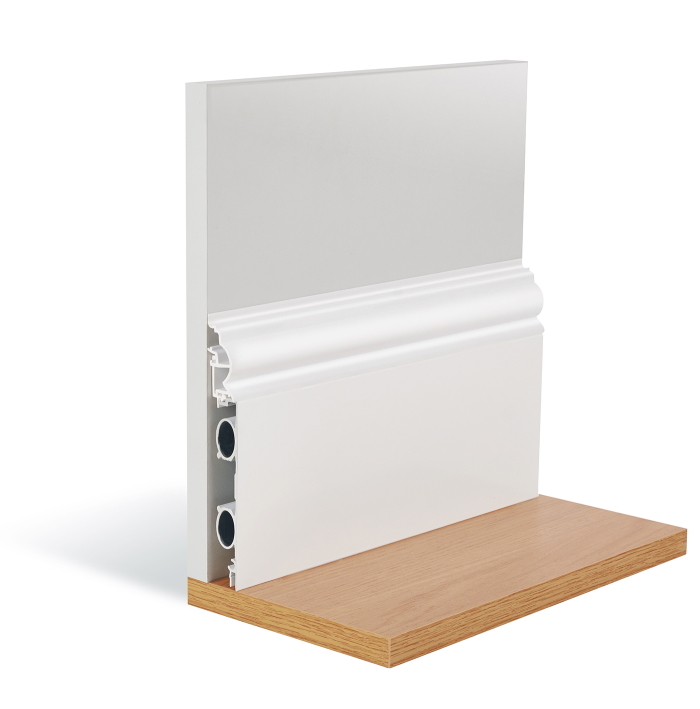 160mm / 6¼" high Profile
Traditional Torus Profile
Ideal for Renovation & Restoration
Also Available in Electric Version
Profile BM2OV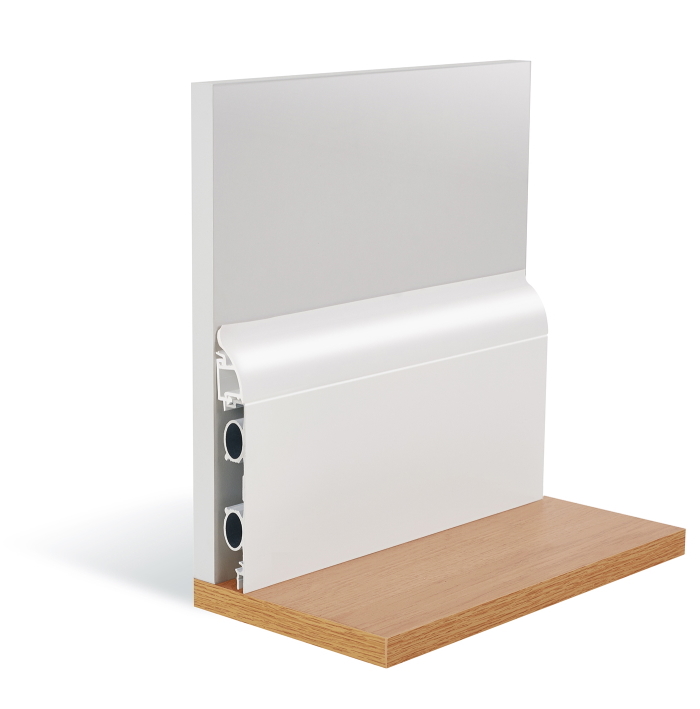 160mm / 6¼" High Profile
Easy Clean, Sealed Top Capping
Ideal for Healthcare & Assisted Living
Also Available in Electric Version
Profile BM3
Suitable for Poor Insulation
Profile BM3TS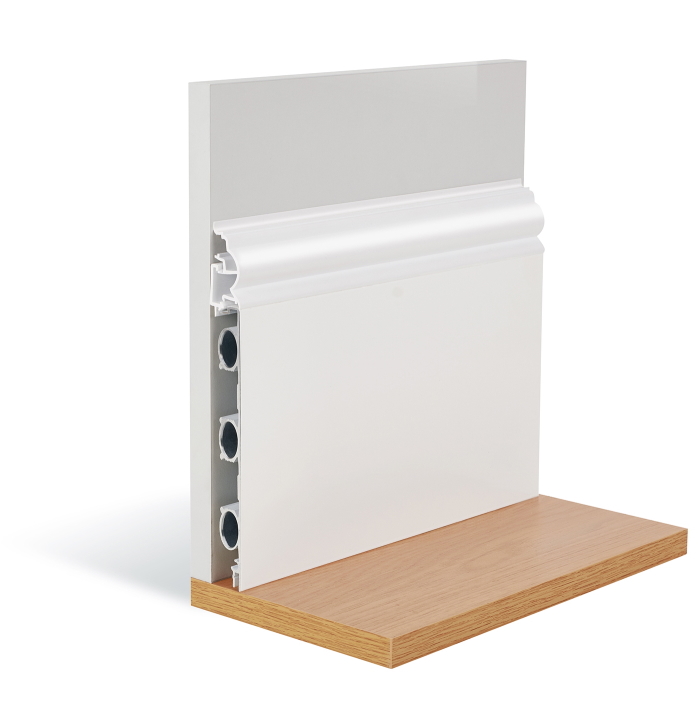 210mm / 8¼" High Profile
Traditional Torus Profile
Ideal for use on Heat Pumps
Also Available in Electric Version
Profile BM3OV
210mm / 8¼" High Profile
Easy Clean, Sealed Top Capping
Ideal for Healthcare & Assisted Living
Also Available in Electric Version